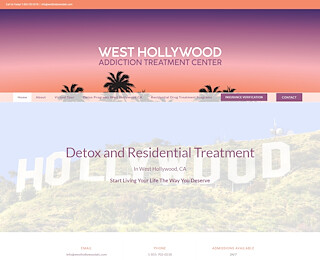 As an addiction victim struggling with withdrawal and the risk of overdose, you need to consider coming to our treatment center in West Hollywood as soon as possible. You need immediate medical and psychiatric treatment, along with counseling and personal guidance to overcome your problems and adopt a more balanced lifestyle. West Hollywood Addiction Treatment Center is the ideal destination for individuals who seek to unfold a new chapter in their lives.
How our rehab treatment can change your life
The rehabilitation process is essential for overcoming substance addiction and regaining your mental and spiritual balance along the way. Our facility offers detox and residential treatment, placing patients in a controlled, safe, and comfortable environment for sustained recovery. While our treatment is time-limited, the healing process itself may last for years to come, possibly for a lifetime.
Our team's job is to make sure you understand your addiction's causes and remain focused on your recovery goals. To help you embrace sobriety as a newfound life value, we rely on:
Medical detox to help you manage the withdrawal, cravings, and co-occurring disorders
Therapy and counseling to address mental and emotional traumas
Counseling sessions for anger management, stress, internalized fears, etc.
Expert guidance on career opportunities, financial stability, and family relationships
Personal growth support, helping you use your energy more productively, etc.
Our experts will also teach healthy lifestyle habits, from nutrition tips to healthier hobbies, workout routines, and more. Our treatment center in West Hollywood houses people who seek a way out of their anger, fear, insecurities, and stress coming from dealing with substance abuse and untreated mental issues.
Is rehab painful?
The treatment may involve some physical and psychological distress linked to the withdrawal's effects, but this is all part of the rehabilitation process. The good part is that our team's job is to minimize the withdrawal symptoms, cravings, and physiological responses, ensuring a more comfortable rehabilitation experience. We use targeted medication, therapy, and counseling to address your addiction effectively and minimize its effects during the recovery period.
This approach will provide you with peace of mind and a therapeutic effect that will restore your positivity, optimism, and confidence in yourself. In truth, you need to fear untreated addiction more than the pain of rehab, which is only temporary and part of the ongoing healing process. Untreated addiction will soon take you beyond the point of no return, as it comes with severe health complications and risks of overdoses every day.
Come to the best treatment center in West Hollywood!
Our facility offers personalized detox and residential treatment in a comfortable and luxurious recovery environment. We have a team of rehabilitation professionals ready to assist you throughout the recovery journey to ensure optimal physical, mental, and spiritual healing.
Call our center at West Hollywood Addiction Treatment Center, speak to one of our rehab experts, and make an appointment today! You can join the detox process and begin your journey to sobriety at our leading rehab facility as soon as we complete the intake process.
West Hollywood ATC
855-622-6723
9024 Harratt St.
West Hollywood
CA
90069
US